Thanks for your interest! Below you'll find information about what an 'Allied Health Professional' is, what this event is about, and who will be speaking. We really hope you join us to learn more.
What is an 'Allied Health Professional' (AHP)?
Allied Health Professionals (AHP) work on the prevention and improvement of health and wellbeing through a holistic approach to healthcare. AHPs include:
Art therapists
Physiotherapists
Therapeutic Radiographers
Dieticians
Optometrists (eye care)
Paramedics
A full list is available here.
Some AHPs require degrees, diplomas, certified credentials, and continuing education, while others require no special training or credentials - simply on-the-job training. Many allied health jobs are considered career ladder jobs because of the opportunities for advancement within specific fields.
What will happen in this event?
You'll learn more about some of the opportunities available in allied health, what skills or qualifications are needed (if any), and how to get involved.
As this event is sponsored by The Prince's Trust, you'll also hear about how The Prince's Trust can help you to develop an application that gets you through the door, even if you haven't had prior experience in the area you're interested in.*
At the end of the event, you'll have the opportunity to ask questions to the panel.
*Please note, The Prince's Trust can only support those who are 16-30 years old with the right to work in the UK.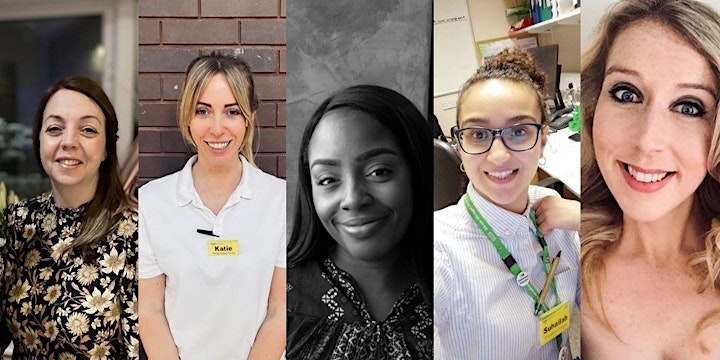 Meet our panel:
Lorraine Allchurch - Lead AHP Support Worker, The Dudley Group NHS Foundation Trust
Lorraine started her career as an entry-level Auxiliary Nurse and has progressed to be a Therapy Assistant Practitioner. Lorraine is currently on a secondment as Lead AHP Support Worker, a leadership role in the field. She loves working with placement students, ensuring they feel at ease so they can get the most out of their time.
Katie Betteridge - Therapy Support Worker (Trauma and Orthopaedics), Good Hope Hospital
Katie works alongside Physiotherapists and Occupational Therapists rehabilitating patients following Trauma surgery. She also helps other Therapy Support Workers with their learning and development. She has worked with students on placement and believes it is important to educate the multiple opportunities and career paths to getting into the sector.
Teni Ibrahim - Orthoptist and BIOS Work Experience Lead, Moorfields Eye Hospital
As an orthoptist, Teni diagnoses and treats eye movement disorders, and visual impairments relating to eye and brain interactions. She is currently seconded into a Work Experience Lead role with the British and Irish Orthoptics Society (BIOS), supporting prospective students who are looking to apply to university to study Orthoptics as a degree.
Clare Maddocks - PR Officer & Neurologic Music Therapist, British Association for Music Therapy (BAMT)
Clare promotes the profession of Music Therapy, providing support for training and practising Therapists. She is also a practising Neurologic Music Therapist herself, working with young people to improve their self-esteem and mental health, and has supported Music Therapy students through employment and clinical practice workshops.
Suhailah Mohamed - Occupational Therapist & National AHP Clinical Fellow, Health Education England (HEE)
Suhailah is a trained occupational therapist, and currently on a secondment with HEE to reform and transform the AHP Workforce in England. She aims to put the health needs of the population at the centre of her work. She has experience working with young adults, providing them with routes into an occupational therapy career.
Heather Turkington - Dramatherapist, British Association of Dramatherapists and Larchwood Care NI
As a Dramatherapist, Heather uses story-making, movement, and art as a channel for psychological therapy. She currently works in a men's mental health residential and nursing unit. Heather has also supervised and mentored students learning the field, helping to provide direction and decision-making support to those she is working with.
What next?
Register now and join us live on 14th October at 6.00pm! This event will be held on Microsoft Teams; download it for free here.
Looking forward to seeing you there!
The Prince's Trust team